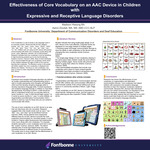 Faculty Advisor
Aaron Doubet
Description
Core vocabulary is a set of words in any language used in an everyday context. Words that fall into this category include: "can," "do," "want," "more," "have," "where," "when," "why," "get," "give," "have," "me," "you," "go," "stop," "yes," "no," etc. Children who are using an AAC device will practice communicating with these core vocabulary words along with nouns, verbs, adjectives, adverbs, etc to build phrases. Research indicates that core vocabulary is just as beneficial to high-functioning students as it is too low-functioning students (Cannon, Edmond, 2009). Most of what individuals say is communicated through core vocabulary words which is why children between the ages of birth to five must be learning that vocabulary. The literature review in this poster will further explain how core vocabulary is displayed and effective for children. The focus on core vocabulary, may open up doors to other important key factors needed on an AAC device.
Keywords
Augmentative and Alternative Communication device, AAC device, Nonverbal communication, Expressive Language Disorder, Receptive Language Disorder, Core vocabulary, Children
Disciplines
Communication Sciences and Disorders | Speech and Hearing Science | Speech Pathology and Audiology
Presentation Type
Poster Presentation
College
College of Education and Allied Health
Department
Communication Disorders and Deaf Education
Degree Name
Master of Science (MS)
Degree Program
Speech-Language Pathology
Publication Date
Spring 2023
Publisher
Fontbonne University Archives
Recommended Citation
Hissong, Madison, "Effectiveness of Core Vocabulary on an AAC Device in Children with Expressive and Receptive Language Disorders" (2023). 2023 SLP Posters. 25.
https://griffinshare.fontbonne.edu/slp-posters-2023/25
Creative Commons License


This work is licensed under a Creative Commons Attribution-Noncommercial-No Derivative Works 4.0 License.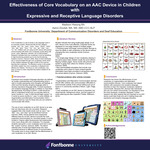 COinS