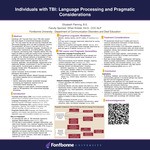 Faculty Advisor
Ethan Kristek
Description
Individuals with Traumatic Brain Injury (TBI) often present with some degree of compromised language processing (LP). This may impact the rate and accuracy individuals with TBI process language which can lead to pragmatic concerns. This presentation will focus on how each end of LP may impact components of pragmatic language, including but not limited to topic maintenance, turn-taking abilities, relevancy of response, and listening skills. Pragmatic deficits (PD) may impact the ability to create and sustain human connection or participate in vocational settings resulting in negative impacts on quality of life. Although behaviors of accelerated LP may overlap with executive functioning (EF) deficits, embodying a conversation-based treatment approach may be more functional, applicable, and generalizable. Assessment of the relationship between compromised LP and PD may help to create specific, functional goals to address in speech-language therapy within TBI populations to improve treatment outcomes.
Keywords
Traumatic Brain Injury, TBI, Language Processing, Pragmatic language, Executive functioning
Disciplines
Communication Sciences and Disorders | Speech and Hearing Science | Speech Pathology and Audiology
References
Bolt, S., Baylor, C., Burns, M., & Eadie, T. (2018). "I would have told you about being forgetful, but I forgot": The experience of cognitive changes and communicative participation after head and neck cancer. Disability and Rehabilitation, 42(7), 931–939. https://doi.org/10.1080/09638288.2018.1514535
Douglas, J. M. (2017). "So that's the way it is for me — always being left out." Acquired pragmatic language impairment and ssocial functioning following traumatic brain injury. Brain Impairment, 18(3), 321–331. https://doi.org/10.1017/brimp.2017.20
Henderson A., Roeschlein M.A., & Wright H.H. (2014). Improving discourse following traumatic brain injury: A tale of two treatments. Semin Speech Lang.41(5), 365-382. doi: 10.1055/s-0040-1712116. Epub 2020 May 18. PMID: 32422669
Ilie, G., Cusimano, M.D. & Li, W. (2017). Prosodic processing post traumatic brain injury - a systematic review. Syst Rev 6. https://doi.org/10.1186/s13643-016-0385-3
Koch, C. (2019). Clinical management of speech sound disorders a case-based approach. World Headquarters.
Lê, K., Coelho, C., & Fiszdon, J. (2022). Systematic review of discourse and social communication interventions in traumatic brain injury. American Journal of Speech-Language Pathology, 31(2), 991–1022. https://doi.org/10.1044/2021_ajslp-21-00088
Middlebrooks, E. H., Yagmurlu, K., Szaflarski, J. P., Rahman, M., & Bozkurt, B. (2016). A contemporary framework of language processing in the human brain in the context of preoperative and intraoperative language mapping. Neuroradiology, 59(1), 69–87. https://doi.org/10.1007/s00234-016-1772-0
Ramos-Usuga, D., Benito-Sánchez, I., Pérez-Delgadillo, P., Valdivia-Tangarife, R., Villaseñor-Cabrera, T., Olabarrieta-Landa, L., & Arango-Lasprilla, J. C. (2019). Trajectories of neuropsychological functioning in Mexican children with traumatic brain injury over the first year after injury. NeuroRehabilitation, 45(3), 295–309. https://doi.org/10.3233/nre-192834
Roseberry-McKibbin, C., Hedge, M.N., & Tellis, G., M. (2019). An advanced review of speech-language pathology. Pro-Ed.
Stenberg M., Godbolt A.K., Nygren De Boussard C., Levi R., & Stålnacke B.M. (2015). Cognitive impairment after severe traumatic brain injury, clinical course and impact on outcome: A Swedish-Icelandic study. Behav Neurol, 2015. doi: 10.1155/2015/680308
Presentation Type
Poster Presentation
College
College of Education and Allied Health
Department
Communication Disorders and Deaf Education
Degree Name
Master of Science (MS)
Degree Program
Speech-Language Pathology
Publication Date
Spring 2023
Publisher
Fontbonne University Archives
Recommended Citation
Fleming, Elizabeth, "Individuals with TBI: Language Processing and Pragmatic Considerations" (2023). 2023 SLP Posters. 21.
https://griffinshare.fontbonne.edu/slp-posters-2023/21
Creative Commons License


This work is licensed under a Creative Commons Attribution-Noncommercial-No Derivative Works 4.0 License.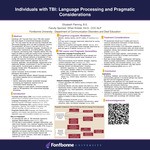 COinS