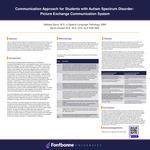 Faculty Advisor
Aaron Doubet
Description
There is a range of intervention approaches for individuals with autism who have minimal verbal expressive language. This study reviews a commonly used low-tech option known as Picture Exchange Communication System (PECS) to teach functional communication to individuals through a multi-phase process. Through different research findings, the study will demonstrate factors influencing the effectiveness of PECS for communication development at a school setting. As seen in Ganz et al. (2012) meta-analysis, it has been determined that PECS can be effective in developing functional communication for individuals with autism.
Keywords
Autism Spectrum Disorder, ASD, Autism, Communication approach, Picture Exchange Communication System, (PECS), Augmentative communication system, Minimal verbal expressive language, School
Disciplines
Communication Sciences and Disorders | Speech and Hearing Science | Speech Pathology and Audiology
Presentation Type
Poster Presentation
College
College of Education and Allied Health
Department
Communication Disorders and Deaf Education
Degree Name
Master of Science (MS)
Degree Program
Speech-Language Pathology
Publication Date
Spring 2023
Publisher
Fontbonne University Archives
Recommended Citation
Davis, Melissa, "Communication Approach for Students with Autism Spectrum Disorder: ​ Picture Exchange Communication System" (2023). 2023 SLP Posters. 16.
https://griffinshare.fontbonne.edu/slp-posters-2023/16
Creative Commons License


This work is licensed under a Creative Commons Attribution-Noncommercial-No Derivative Works 4.0 License.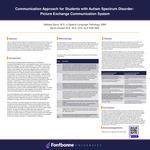 COinS