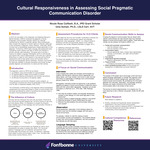 Faculty Advisor
Uma Soman
Description
In 2013, the new edition of the Diagnostic and Statistical Manual of Mental Disorders (DSM-5) introduced the diagnosis of Social (Pragmatic) Communication Disorder (SPCD) as a disorder characterized by deficits in pragmatic abilities. Many professionals often compare this diagnosis to Autism Spectrum Disorder (ASD) due to their similarities in diagnostic criteria. However, unlike ASD, SPCD currently has no standardized assessments created specifically for this diagnosis. Furthermore, SPCD lacks culturally valid assessment tools. Considering recent research and data on SPCD and methods to provide culturally valid evaluations, this poster aims to provide a resource for Speech-Language Pathologists (SLPs) to self-educate and improve their cultural responsiveness in this area and in general. While there is a need for more research in this area and the formal assessments used to help assess social communication skills in culturally and linguistically diverse individuals, clinicians must harness the resources available to educate themselves and provide the best possible diagnosis and intervention for clients and their families.
Keywords
Social Pragmatic Communication Disorder​, SPCD, Pragmatic abilities, Diverse clients, Cultural responsiveness
Disciplines
Communication Sciences and Disorders | Speech and Hearing Science | Speech Pathology and Audiology
Presentation Type
Poster Presentation
College
College of Education and Allied Health
Department
Communication Disorders and Deaf Education
Degree Name
Master of Science (MS)
Degree Program
Speech-Language Pathology
Publication Date
Spring 2023
Publisher
Fontbonne University Archives
Recommended Citation
Colflesh, Nicole Rose, "Cultural Responsiveness in Assessing Social Pragmatic Communication Disorder​" (2023). 2023 SLP Posters. 14.
https://griffinshare.fontbonne.edu/slp-posters-2023/14
Creative Commons License


This work is licensed under a Creative Commons Attribution-Noncommercial-No Derivative Works 4.0 License.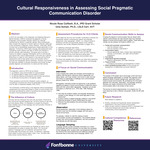 COinS