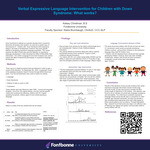 Faculty Advisor
Klaire Brumbaugh
Description
Down Syndrome is defined as a genetic disorder that is caused by abnormal cell division that results in an extra full or partial copy of chromosome 21. Children with Down Syndrome (DS) experience delays in all areas of development; however, they have specific deficits in developing expressive language acquisition. This review explores the effect of both play and joint attention on expressive language development. It also discusses the effect of Naturalistic Sign Intervention. The LENA (Language Environment Analysis) was used to explore the effect of behavioral phenotypes on expressive language development.
Keywords
Down Syndrome, Expressive language acquisition, Expressive language development, Play, Joint attention, Naturalistic Sign Intervention, Language Environment Analysis
Disciplines
Communication Sciences and Disorders | Speech and Hearing Science | Speech Pathology and Audiology
References
Fewell, R. R., & Ogura, T. (1997). The relationship between play and communication skills in young children with Down syndrome. Topics in Early Childhood Special Education, 17(1), 103. https://doi.org/10.1177/027112149701700109
Parikh, C., & Mastergeorge, A. M. (2018). Vocalization patterns in young children with Down syndrome: Utilizing the language environment analysis (LENA) to inform behavioral phenotypes. Journal of Intellectual Disabilities, 22(4), 328–345. https://doi.org/10.1177/1744629517708091
Wright, C. A., Kaiser, A. P., Reikowsky, D. I., & Roberts, M. Y. (2013). Effects of a Naturalistic Sign Intervention on Expressive Language of Toddlers With Down Syndrome. Journal of Speech, Language & Hearing Research, 56(3), 994–1008. https://doi.org/1092-4388(2012/12-0060)
Mason-Apps, E., Stojanovik, V., Houston-Price, C., & Buckley, S. (2018). Longitudinal predictors of early language in infants with Down syndrome: A preliminary study. Research in Developmental Disabilities, 81, 37–51. https://doi.org/10.1016/j.ridd.2017.12.021
Presentation Type
Poster Presentation
College
College of Education and Allied Health
Department
Communication Disorders and Deaf Education
Degree Name
Master of Science (MS)
Degree Program
Speech-Language Pathology
Publication Date
Spring 2023
Publisher
Fontbonne University Archives
Recommended Citation
Christman, Kelsey, "Verbal Expressive Language Intervention for Children with Down Syndrome: What works?" (2023). 2023 SLP Posters. 13.
https://griffinshare.fontbonne.edu/slp-posters-2023/13
Creative Commons License


This work is licensed under a Creative Commons Attribution-Noncommercial-No Derivative Works 4.0 License.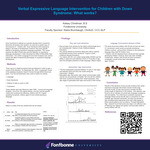 COinS