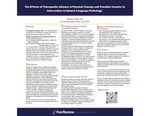 Faculty Advisor
Amanda Eaton
Description
In this presentation, the techniques used within therapy sessions to strengthen therapeutic alliance between the therapist and client will be discussed along with current tools used to measure therapeutic alliance. Current perspectives on therapeutic alliance in speech language pathology will be discussed and compared to that of therapeutic alliance in Physical Therapy.
Presentation Type
Poster Presentation
College
College of Education and Allied Health
Department
Communication Disorders and Deaf Education
Disciplines
Communication Sciences and Disorders | Speech and Hearing Science | Speech Pathology and Audiology
Degree Name
Master of Science (MS)
Degree Program
Speech-Language Pathology
Publication Date
Spring 2022
Publisher
Fontbonne University Archives
Keywords
Therapeutic Alliance, Speech-Language Pathology, Physical Therapy
Recommended Citation
Mudd, Meghan, "The Effects of Therapeutic Alliance in Physical Therapy and Possible Transfer to Intervention in Speech Language Pathology" (2022). 2022 Speech-Language Pathology Posters. 2.
https://griffinshare.fontbonne.edu/slp-posters-2022/2
Creative Commons License


This work is licensed under a Creative Commons Attribution-Noncommercial-No Derivative Works 4.0 License.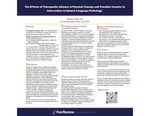 COinS