Alternate Name(s)
Čaršijska džamijaGradska džamijaTown mosque in PrijedorMarket mosque in Prijedor
Preview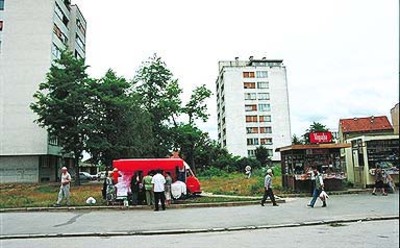 Region
Bosanska Krajina/Western Bosnia
Historical Period
Ottoman
Additional Construction Details
18th c. (1760; rest. 1904)
Building Setting
completely destroyed
Building Condition
completely destroyed
Damage Description
The Čaršijska mosque is completely destroyed, the site leveled,all building materials removed. The empty site of the destroyed mosque is being usedfor market stalls and for dumping rubbish.Buildings abutting the site are undamaged. Walls facing empty site of the mosque arecovered with layers of graffiti in Serbian, praising warlord Željko Ražnatović Arkan.
Source (Damage Description)
András Riedlmayer, site visit (07/2002), and information andphotos from the Medžlis of the Islamic Community of Prijedor and other sources.
Informant Statement
According to information in the records of the Medžlis of theIslamic Community of Prijedor, the Čaršijska mosque on the main street in Prijedorwas destroyed on 30 May 1992. The mosque was looted and set on fire, burning downthe roof and the mosque's wooden minaret. Then heavy equipment from the city'sroads department was used to knock down the remains of the mosque's walls. Therubble of the mosque was taken out of town and dumped in the municipal rubbish tip.
Source (Informant Statement)
Ahmet-efendija Rahmanović, head imam of Prijedor (07/2002), interviewedby András Riedlmayer.
Creative Commons License


This work is licensed under a Creative Commons Attribution-Noncommercial-No Derivative Works 4.0 License.