Alternate Name(s)
Džamija u džematu Čarakovo Džamija u Čarakovu
Preview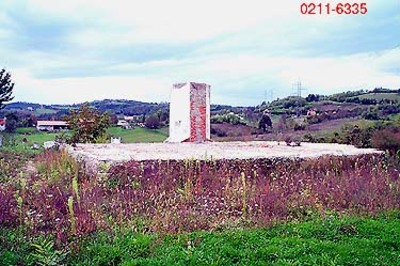 Region
Bosanska Krajina/Western Bosnia
Additional Construction Details
20th c. (1959)
Building Setting
almost destroyed
Building Condition
almost destroyed
Damage Description
The Čarakovo mosque is almost completely destroyed, only the massive stump of the minaret and the mosque's foundations remain at the site.
Source (Damage Description)
András Riedlmayer, site visit (07/2002) and information and photos from the Medžlis of the Islamic Community of Prijedor and other sources.
Informant Statement
According to information in the records of the Medžlis of the Islamic Community of Prijedor, the Čarakovo mosque was burned down and its minaret blown up on 23 July 1992. On the same day, 18 Muslim residents of the village were killed in front of the mosque, including the mosque's imam, Sulejman-efendija Dizdarević, who was wrapped inside a prayer carpet and burned. Parts of the ruined walls of the burned-out Čarakovo mosque were still standing at the end of the war. The remains of the walls were unstable and were pulled down in 1998, by returning village residents, to keep children playing in the ruins safe from being injured by falling bricks. Seven years after the war, the mosque has not been rebuilt, for lack of funds.
Source (Informant Statement)
Ahmet-efendija Rahmanović, head imam of Prijedor (07/2002), interviewed by András Riedlmayer.