Alternate Name(s)
Mutnička džamija Šarena džamija Many-colored mosque
Preview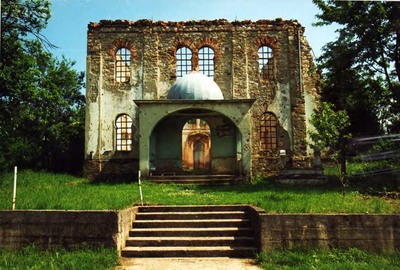 Region
Bosanka Krajina/Western Bosnia
Historical Period
Austro-Hugarian
Additional Construction Details
19th c. (before 1896)
Building Setting
heavily damaged
Building Condition
heavily damaged
Damage Description
The Mutnik mosque is burned out, its roof gone, its interior gutted and open to the sky. The perimeter walls remain standing up to the roofline. The mosque's tall, masonry minaret appears to have been destroyed by a powerful blast, leaving behind a shattered stump, parts of it extending up to the roofline. The small, domed entrance portico of the mosque, a modern addition, is pockmarked with bullet holes.
Source (Damage Description)
András Riedlmayer (07/2002) site visit, information and photos from the Medžlis of the Islamic Community of Prijedor and other sources.
Informant Statement
The Mutnik mosque in Kozarac is more than 100 years old. It was richly decorated and was one of the most important monuments of Islamic religious architecture in this region. The mosque was burned down in the first months of the war in 1992 and its minaret was blown up.
Source (Informant Statement)
Abaz-efendija Muratćehajić, imam of the Mutnik mosque (07/2002), interviewed by András Riedlmayer.