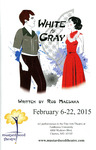 Title
Performance Dates
February 6-22, 2015
Description
The SS Lurline, christened in July, 1932, was one of four cruise ships operated by Matson Lines between the west coast of the United States and Hawaii in the first half of the Twentieth Century. Matson Lines was the premier passenger line for luxury cruises to Hawaii until the early 1960s when jet airline travel became affordable and cruise ships to Hawaii could no longer compete for passengers. The name, Lurline, is a poetic variation of Lorelei: a Rhine river siren (similar to a mermaid) of German mythology.

The SS Lurline was indeed halfway between Honolulu and San Francisco on December 7, 1941 when Japan attacked the US Naval base at Pearl Harbor. Immediately upon arrival at San Francisco, Lurline was pressed into military service as a troop carrier, along with all the ships of the Matson Lines. The four Matson passenger liners, Lurline, Matsonia, Mariposa and Monterey, completed 119 voyages and carried a total of 736,000 troops from December, 1941 until the Japanese surrender in August, 1945. After the war, Matson Lines refitted Lurline for civilian passengers for the then huge sum of $20 million. Lurline resumed service to Hawaii in April, 1948 and continued until Matson Lines sold her to Chandris Lines in 1963. Chandris rechristened her Ellinis and used her for Atlantic and Mediterranean voyages. Ellinis sailed until October, 1981 when she broke down for the final time off the coast of Greece and was sold for scrap in 1986.
USS Arizona
The USS Arizona was a second generation design (Pennsylvania class) battleship commissioned in 1916. After WWI the Arizona was transferred from the Atlantic to the Pacific Fleet and underwent a comprehensive modernization that took from 1929 to 1931. On December 7, 1941 Arizona was anchored in Pearl Harbor and suffered at least four direct hits in the Japanese attack. The last bomb pierced the forward ammunition magazines and the ship exploded in a cataclysmic fireball that actually blew out the fires on the repair ship Vestal, which was moored alongside . Arizona burned for two days before the ship finally sank enough to put the fires out. Of the 1,512 officers and men on board at the time of the explosion, 1,177 perished. This was more than half of the 2,403 servicemen killed in the attack. The hull of the ship remains at the bottom of Pearl Harbor and is the centerpiece of the National Park Service memorial dedicated to all who died in the attack. While no longer in commission, Arizona retains the right, in perpetuity, to fly the United States flag as if she were an active, commissioned naval vessel.
Publisher
Fontbonne University Archives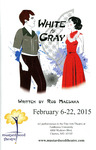 COinS
Rights Statement