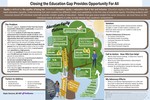 Faculty Advisor
Elizabeth Cowie
Description
Education Equity is education that is fair and inclusive. Understanding that each student has different needs and capabilities is the first step of attaining education equity. Research suggests, low-income students of color have less academic achievement due to barriers associated with Social Determinants of Health, economic stability, social & community context, neighborhood & environment, health care, and education. Providing students with resources based off individual need will provide a better quality of education. Education equity matters because high- and low-income students do not have the same starting point in life, therefore not all students have the same opportunities to thrive. From the years 2000-2011, the number of high poverty schools in the United States increased 60%, and in 2017, 1 out of every 4 schools were considered high poverty. As the education gap grows larger, if it is not closed, students from low-income households will continue to be left behind.
Presentation Type
Poster Presentation
Department
Family and Consumer Sciences
Degree Name
Bachelor of Science (BS)
Degree Program
Health Education and Promotion
Disciplines
Public Affairs, Public Policy and Public Administration
Publication Date
Fall 2020
Publisher
Fontbonne University Archives
Recommended Citation
Vescovo, Kayla, "The Education Gap, What It Is, Why it Matters & How We Can Close It" (2020). FCS Advocacy Posters. 9.
https://griffinshare.fontbonne.edu/fcs-posters-2020/9
Creative Commons License


This work is licensed under a Creative Commons Attribution-Noncommercial-No Derivative Works 4.0 License.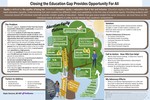 COinS