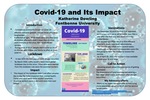 Title
Faculty Advisor
Elizabeth Cowie
Description
This presentation is about the impact of Covid-19 on marginalized communities in the U.S. I will be talking about Covid-19 from the beginning all the way to the present time. Since this is an ongoing pandemic there is more information that comes out every day about it. I will be talking about the impact Covid-19 had not only on the communities but also about how the vaccine rollout targeted specific audiences.
Presentation Type
Poster Presentation
Department
Family and Consumer Sciences
Degree Name
Bachelor of Science (BS)
Degree Program
Health Education and Promotion
Disciplines
Public Affairs, Public Policy and Public Administration
Publication Date
Spring 2021
Publisher
Fontbonne University Archives
Keywords
Covid-19, coronavirus, vaccinations
Recommended Citation
Dowling, Katherine, "Covid-19 and Its Impact" (2021). FCS Advocacy Posters. 10.
https://griffinshare.fontbonne.edu/fcs-posters-2020/10
Creative Commons License


This work is licensed under a Creative Commons Attribution-Noncommercial-No Derivative Works 4.0 License.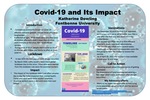 COinS