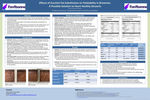 Faculty Advisor
Jamie Daugherty
Description
Description: In 2017-2018, 42.2% of the adult population living in the US was obese (BMI ≥ 30 kg/m2). This increases risk for cardiovascular diseases, such as coronary artery disease (CAD), which is the top cause of death in the United States. In addition, 18.2 million adults in the US are living with CAD. People with CAD are encouraged to reduce dietary saturated fat and cholesterol in a DASH diet-style of eating. Substituting fat in recipes is difficult due to its important role in the cooking process, such as, heat transfer, tenderizing, and emulsification. Desserts, such as brownies, are traditionally high in saturated fats. Zucchini is a nutrient-dense squash that can be used as a fat-substitute in baked goods. This study concluded that zucchini brownies, resulting in reduced saturated fat, cholesterol, and calories, may be a palatable alternative to traditional brownies. These zucchini brownies align more closely with a heart healthy diet.
Presentation Type
Poster Presentation
Department
Family and Consumer Sciences
Degree Name
Bachelor of Science (BS)
Publication Date
Fall 2020
Recommended Citation
Knuckles, Heidi and Malloy, James, "Effects of Zucchini Fat Substitution on Palatability in Brownies: A Possible Solution to Heart Healthy Desserts" (2020). FCS Experimental Foods Posters. 6.
https://griffinshare.fontbonne.edu/fcs-424-2020/6
Creative Commons License


This work is licensed under a Creative Commons Attribution-Noncommercial-Share Alike 4.0 License.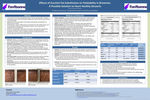 COinS