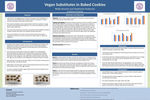 Faculty Advisor
Jamie Daugherty
Description
Heart Disease is the leading cause of death in both men and women in the United States. It is referred to as several different heart conditions and the most popular one being coronary heart disease, which leads to heart attacks. The researchers decided to make a popular dessert that fit the standards of a vegan diet which could potentially help people near or at risk for heart disease, yet still be able to enjoy a sweet treat. There were three recipe trials conducted to compare the liking of different variations of vegan chocolate chip cookies to an originally chocolate chip cookie. There were limitations to this study, but the researchers feel that their goal of meeting the same flavor, structure, and texture of a vegan cookie to a regular was indeed met.
Presentation Type
Poster Presentation
Department
Family and Consumer Sciences
Degree Name
Bachelor of Science (BS)
Disciplines
Family, Life Course, and Society | Food Science | Food Studies
Publication Date
Fall 2020
Publisher
Fontbonne University Archives
Recommended Citation
Kovarik, Molly and Anderson, Stephanie, "Vegan Substitutes in Baked Cookies" (2020). 2020 Research Posters. 5.
https://griffinshare.fontbonne.edu/fcs-424-2020/5
Creative Commons License


This work is licensed under a Creative Commons Attribution-Noncommercial-No Derivative Works 4.0 License.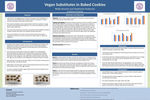 COinS